Welcome to the 3rd and 4th class webpage. We have 18 pupils in our classroom. There are 9 pupils in third class and 9 pupils in fourth class. Our teacher is Mr. Murphy. A unique feature of our class is that we have twins in both 3rd and 4th class.
While we can't have visitors to our classroom this year we hope you enjoy seeing some of our work and activities on this page. We will display some of our artwork and photos of the different things we get up to in our class during the year.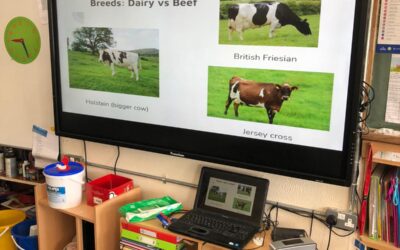 Ms. Nolan worked with 3rd & 4th class and learned all about the different breeds of cattle. We looked at a cow card and tag and learned about how each cow and herd is identified. We also looked at different safety signs on a farm. We learned about the different...
read more
Get In Touch
Location: Dromcollogher, Co. Limerick
Telephone: (063)83229
Email: dromcollogherprimary@gmail.com
School Hours: M-F: 9.20am - 3pm
The school office is manned Monday to Wednesday 9.00 am – 12.00 pm. An answering service is available at all other times and a call will be returned to you.