Sports Day took place on Friday June 9th. Everyone enjoyed a wonderful day. We were all kept very busy. The school grounds were organised into 4 stations:
Station 1 where we completed our sprints, long run and novelty races.
Station 2 where we participated in team games – tag rugby and soccer.
Station 3 where we enjoyed a bounce on our two bouncing castles.
Station 4 where the juniors enjoyed soft play games – ie beanbags, rockets, hoolahoops etc and seniors played dodge ball.
It was a jam packed day!!!
At 11am Gareth Noonan member of the Limerick Senior Football Panel assisted in the raising of our 4th Green Flag. He signed jerseys for the children, spoke to them about whats required of a county player and took photographs with them. Gareth is a past pupil of Scoil Naomh Iosef and it was a pleasure having him return to the school for this special occasion.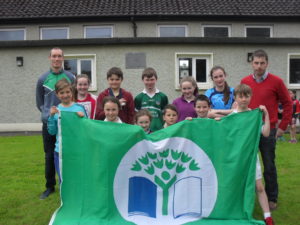 Gareth also presented the Sixth Class Sports Awards. These awards acknowledge the hard work of boys and girls who play sports, their leadership and skill on the field of play and also the sporting spirit they embodied on the good days out and the bad. Well done to this years recipients Saoirse Mc Carthy and Seán Ryan. Mr. Murphy and Mr. Guiry had a very difficult task to select just one boy and girl this year and the school are thankful and proud of all the children who represent Scoil Naomh Iosef across the various codes. Thanks also to Mr. John Cregan, Chairperson of the Board of Management who joined us on the day.
At 12.30 an ice-cream van arrived to treat all the boys and girls to a well deserved ice-cream cone.
Many thanks to all our teachers who made the day possible.
Below are some links to pictures of the day, race results and raising of the Green Flag – please have a look.
Green Schools Raising of the Flag
Sports Day Race Winner pictures
More Pictures from Sports Day 2017
Just a selection of some of the fun and games on June 9th. (All pictures of can be found at the links above.)